Harnessing Mobile Technology to Prevent Suicide
SAMHSA Launches Life-Saving Suicide Prevention Tool for Health Care Providers
Every 13 minutes, someone in the United States dies by suicide. Suicide is the tenth leading cause of death in the United States and the second leading cause of death among young adults age 15 to 34.1 Nearly half of individuals (45 percent) who die by suicide have visited a primary care provider in the month prior to their death, and 20 percent have had contact with mental health services.2
45%
who die by suicide have visited a primary care provider in the month prior to their death.
Behavioral health and primary care settings provide unique opportunities for individuals at risk of suicide to access effective treatment. However, many providers receive limited or no training on suicide risk assessment and intervention. Increasing demands on providers' time present a barrier to having meaningful, one-on-one consultations with patients.
Recognizing the need for providers to have access to quick-reference, life-saving resources and training, the Substance Abuse and Mental Health Services Administration (SAMHSA) tasked IQ Solutions with exploring existing SAMHSA products that could be integrated into a mobile-friendly format.
Understanding Providers' Needs
To this end and under contract to SAMHSA, we engaged in formative research and interviews with subject matter experts and end users—including primary care and behavioral health practitioners, suicide survivors, and suicide prevention experts from federal, national, and academic institutions—to identify the specific educational needs, content, and features for a suicide prevention app.
Repurposing Existing Content
IQ Solutions repurposed several of SAMHSA's highly regarded patient- and provider-focused publications, and the agency's Behavioral Health Treatment Services Locator, into a robust tool to educate and empower providers with knowledge, skills, and critical resources to save lives. The result of this collaborative effort is Suicide Safe—a mobile learning tool for health care professionals, optimized for tablets. Suicide Safe enables providers to confidently assist patients who present with suicidal ideation, to communicate effectively with patients and their families, to determine appropriate next steps, and to make referrals to treatment and community resources, which are critical components of saving lives.
Designing a Marketing Strategy
In addition, IQ Solutions collaborated closely with SAMHSA and the nation's leading suicide prevention organizations to design a multichannel marketing strategy and launch for the Suicide Safe app in March 2015, resulting in notable traditional and new media coverage from consumer and trade press, including Univision, Telemundo, and NBC. Medscape and Frontline Medical News also captured compelling physician endorsements of Suicide Safe. Since its launch in March 2015, the app has been downloaded 30,301 times, from both iOS® and Android™ app stores.
Evaluating Success
Lastly, we developed a survey, approved by the Office of Management and Budget, to capture feedback from providers. The survey results will inform future enhancements.
Visit the SAMHSA Store to learn more and to access links to download Suicide Safe.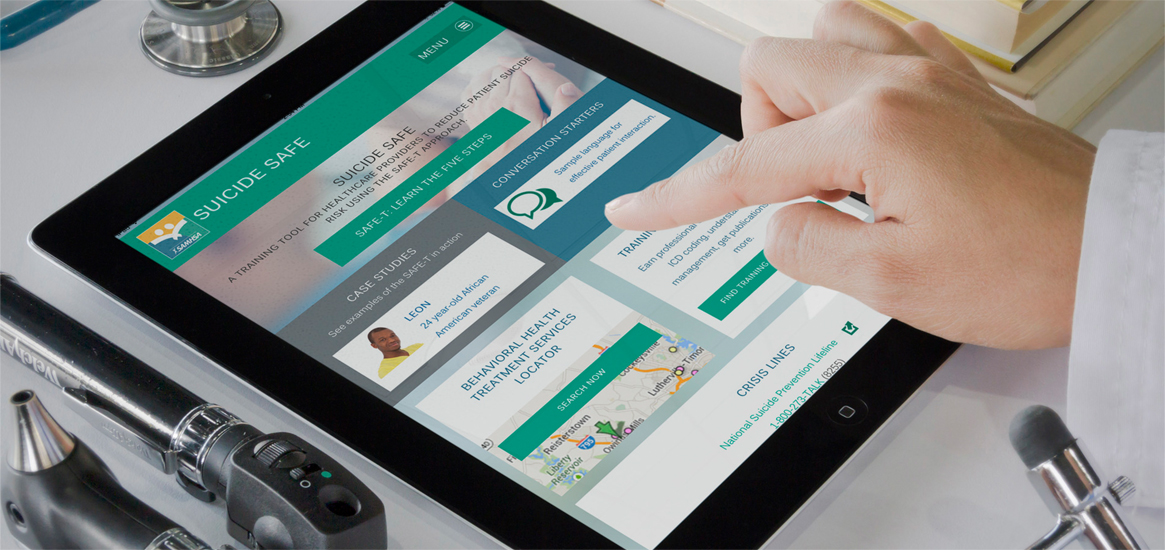 Download the SAMHSA Suicide Safe App
1 National Vital Statistics System, National Center for Health Statistics, Centers for Disease Control and Prevention (CDC). 10 leading causes of death by age group, United States – 2013. Produced by National Center for Injury Prevention and Control, CDC, using WISQARS™. Accessed at http://www.cdc.gov/injury/wisqars/pdf/…
2 Luoma JB, Martin CE, Pearson JL. Contact with mental health and primary care providers before suicide: a review of the evidence. American Journal of Psychiatry. 2002; 159(6):909–916.